Published on July 16, 2013 at 5:24 AM
Medical tribology can be defined as the science of tribological phenomena in the human body, both those that naturally occur in the tissues or organs and those that arise after implantation of an artificial device, while biomaterials are inert substances designed to be incorporated into living systems.
Biomaterials and medical tribology
brings together a collection of high quality articles and case studies focussing on new research and developments in these two important fields.
The book provides details of the different types of biomaterial available and their applications, including nanoparticles for biomedical applications, synergism effects during fiction and fretting corrosion experiments, application of biomedical-grade titanium alloys in trabecular bone and artificial joints, fatigue strengthening of an orthopaedic Ti6AI4V alloy, wear determination on retrieved metal-on-metal hip arthoplasty, natural articular joints, the importance of bearing porosity in engineering and natural lubrication, tribological characterization of human tooth enamel, and finally, liposome-based carrier systems and devices used for pulmonary drug delivery.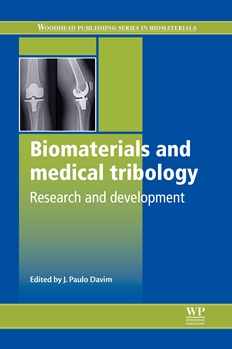 Biomaterials and medical tribology is an essential reference for materials scientists, engineers, and researchers in the field of medical tribology. The title also provides an overview for academics and clinicians in this area.
Professor J. Paulo Davim is based in the Department of Mechanical Engineering of the University of Aveiro and Head of MACTRIB - Machining and Tribology Research Group. He has more than 25 years of teaching and research experience in manufacturing, materials and mechanical engineering with special emphasis in machining and tribology.
He is the editor of five international journals, and serves as guest editor, editorial board member, reviewer and scientific advisor for many other international journals and conferences. He has also published over 350 articles in refereed international journals and conferences.
For the Journalist
Biomaterials and medical tribology: Research and development (ISBN 978 0 85709 017 1) is published at £160.00/ US$270.00/ €190.00 (plus p&p) by Woodhead Publishing Limited, 80 High Street, Sawston, Cambridge, CB22 3HJ, UK. Tel: +44(0)1223 499140. Fax: +44(0)1223 832819. Email:
sales@woodhe